CBT for Tinnitus E-Programme - Choice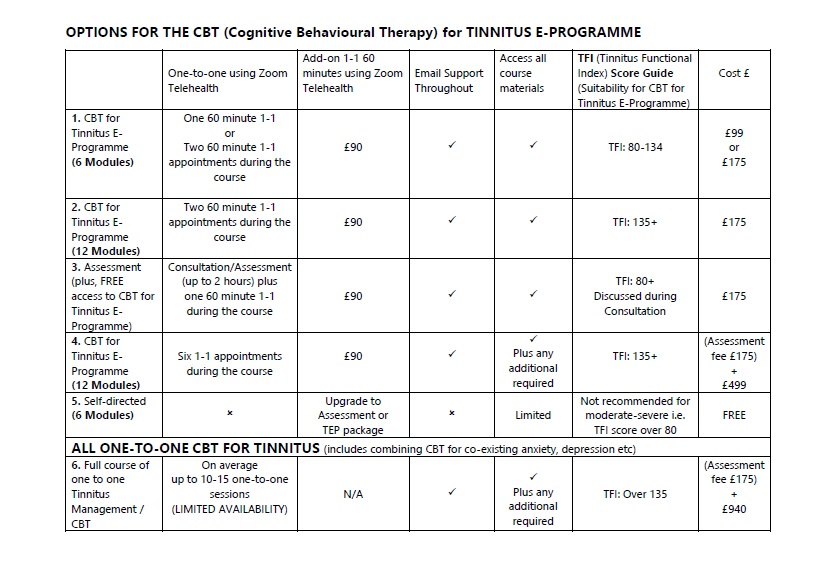 MAIN CHOICES/OPTIONS
-
Options 1 and 2
One 60 minute 1-1 appointment during the course - cost £99
Two 60 minute 1-1 appointments during the course - cost £175
Two 60 minute 1-1 appointments during the course - cost £175
Even knowing your starter TFI score, maybe you're not sure which would be best for you - 6 module or 12 module course?
If your TFI (Tinnitus Functional Index) indicates a moderate problem (32-53%) most people do well using the shorter 6 module course. However, should you find the short course too fast paced, or perhaps later around modules 4 to 5 that you need to work in more depth over time using the CBT tools, you can swap across to the 12 module course and continue

Still includes two 60 minute 1-1 appointments

Cost £175



PREFER TO START WITH A 1-1 ASSESSMENT?
OPTION 3 - Assessment

(Plus free access to the bundle)

Consultation/Assessment (up to 2 hours) plus one 60 minute 1-1 during the course
And send in your
Assessment Booking Form
OPTION 4 - CBT for Tinnitus E-Programme

- only available following

Assessment (Option 3)



Six 1-1 appointments during the course - cost £499
Send in your Assessment Booking Form
SELF-DIRECTED
(No therapist support)
Entirely self-directed. No 1-1 appointments. ONLY SUITABLE IF YOU ARE WELL ENOUGH, HAVE A TFI SCORE 80 OR LESS AND ARE SELF-DISCIPLINED TO COMPLETE THE COURSE ON YOUR OWN WITHOUT SUPPORT
ALL 1-1 WITH DEBBIE FEATHERSTONE
OPTION 6 - Full course of one to one Tinnitus Management / CBT

(includes CBT for pre-existing anxiety, sleep problems, depression etc. as well as for tinnitus)




No limit to number of appointments



On average, patients are working with me for anything between 6-12 months




Appointments are weekly for the first 6-10 weeks, then fortnightly




As a 1-1 patient, you would use the materials from the 12 module course and your 1-1 appointments using Zoom are tailored to your needs




Cost: Assessment £175 + £940