The Tinnitus Project, Mission Statement, Aims and Objectives
Introduction
The research informs us that one in ten of the population reports having tinnitus, yet there is no clearly defined approach to its treatment. While the research also informs us that 85% of the one in ten are not troubled by tinnitus, the remaining 15% are. For the 15%, reported tinnitus distress ranges from mild through to very severe tinnitus distress. A solution to this problem is yet to be identified and a "cure" for tinnitus is evasive due to its complex nature, and unknown or, as yet unidentifiable 'points of origin' of the electrical activity that is experienced as tinnitus.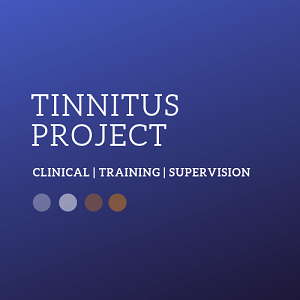 THE TINNITUS PROJECT

The Tinnitus E-Programme (Part 1 and Part 2 iCBT for Tinnitus) is the Online component of the

TINNITUS PROJECT

LINK

to the Tinnitus Project



Mission Statement

To make as widely available as possible a practical and easy-to-follow set of steps towards reducing tinnitus intrusiveness perception
Aims
The CBT for Tinnitus E-Programme provides a structured process that includes education, practical easy exercises to reduce stress reaction in the brain and body, and understanding of the cognitions (meaning/feelings/thoughts) behind reaction to tinnitus that leads to an improved sense of control and significant decrease in tinnitus intrusiveness perception. Complete CBT for Tinnitus E-Programme Part One within approximately 6 – 10 weeks.
Objectives
To alter mid-brain (paleomammalian area of the brain) limbic activity that drives emotional reactions to tinnitus. This reduces cortisol levels in the blood and improves blood flow to the pre-frontal cortex (PFC) allowing for improved sense of control and ability to think with clarity




To impart information that educates the user about the mechanism of tinnitus and the systemic processes that drive reaction to tinnitus
To teach the user the principles of Cognitive Behavioural Therapy (CBT), what it is, how it works, and to introduce the user to "thought and meaning" identification




To evidence clear clinical outcomes using 'before and after' research-validated measures that reflect reduced levels of tinnitus distress




To use the individual clinical outcomes as part of the evaluation of need for further in-depth CBT that is available as an on-line follow-on course to the Tinnitus E-Programme

Therapist Supported TEP:

To support the user through the change process through one to one contact (including use of an online telehealth video platform, user-to-therapist feedback mechanism at the end of each stage/module and email support) to address individual differences. A "one size fits all" approach is inappropriate and unhelpful

Self-Directed TEP:

To support the user through the change process by making available course materials and Progress Checks at the end of each module. Support is necessarily limited due to a choice having been exercised by the User to work Self-Directed rather than be supported by the therapist
Therapist-Supported CBT for Tinnitus E-Programme
Go To Course
Fee £175.00
Self-Directed Tinnitus E-Programme
Go To Course
Available free
The Self-Directed Only Tinnitus E-Programme is being made available
on a trial basis only
. Where Users fail to engage beyond Module 2 - as happened in the original Tinnitus E-Programme, the Self-Directed course will be withdrawn. Based on findings discussed
elsewhere
on this website, the Self-Directed TEP may be suitable for those with mild tinnitus distress (THI score under 40%) but it is NOT sufficient without Therapist Support to help those with THI Categories 4 and 5 scores.