Cognitive Behavioural Therapy (CBT) for TinnitusExperience improvements in weeksA comprehensive clinical interventionNo 'Tips & Tricks' that don't work long term12 Stage CBT for Tinnitus E-Programme 12For moderate, severe & very severe tinnitus distressResults maintained and even improved long term
Available throughout the UK and internationally
The CBT for Tinnitus E-Programme
Developed by Debbie Featherstone MSc.
Hearing Therapist
Specialist in Cognitive Behaviour Therapy and Tinnitus
An Overview of What Cognitive Behavioural Therapy Is About, and How it Can Help with Tinnitus
This video is an extract from a webinar by Debbie Featherstone, Hearing Therapist
for the British Tinnitus Association
Cognitive Behavioural Therapy (CBT) for tinnitus is used when tinnitus intrudes in daily life causing "tinnitus distress"
The CBT for Tinnitus E-Programme:
Enables you to change having "tinnitus distress" in to noticing it less and less, and even when you do notice it, it doesn't bother you




Is a defined process, worked through at your own pace and used in the order it is set out

There is a reason for everything used in the course being not only

what

it is, but

where

it is in the process

Neuro-psychotherapy and associated neuroscience, with cognitive (and behavioural) therapy woven in to the process, stage by stage

Everyone who completes this process as it is set out reaches at least TFI category 2 (tinnitus is a small problem), even those starting with a category 5 (tinnitus is a very big problem)
No two people are the same
Tinnitus distress includes a combination of any or all of the following:
Stress, anxiety, frustration, anger, low mood

Fear of coping with life in the future

Unable to imagine ever being happy again because of tinnitus

Ruminating (thinking over and over) about tinntus

Poor sleep onset and/or waking in the night unable to return to sleep

Difficulty relaxing and partaking in activities previously enjoyed

Worry about those close to you because of how you feel and behave

The belief that no one with tinnitus like yours can be helped
From 1st August 2022: The therapist-supported 12 stage CBT for Tinnitus E-Programme with two 1-1 appointments is so effective, it comes with a promise: Anyone enrolling from 1st August 2022, having used the process as presented and not achieving TFI category 2 after completing Stage 12 will be given free individual appointments until their TFI is category 2. No one has needed additional help such as this since the 12 stage process was made available in July 2020
Debbie Featherstone, August 2022
Snapshot of how the CBT for Tinnitus E-Programme brings about the necessary changes

The CBT for Tinnitus E-Programme is a comprehensive clinical intervention using Cognitive Behaviour Therapy
It is not a set of 'Tips & Tricks'
How much change can be expected?

Tinnitus Functional Index (TFI) Category changes following completion of the 12 stage CBT for Tinnitus E-Programme
Average change by TFI value:
Cat 5 pre-course: 84.9% > 29.9% (Cat 2 post-course)


Cat 4 pre-course: 64.8% > 20.8% (Cat 2 post-course)

Cat 3 pre-course: 45.6% > 19.0% (Cat 2 post course)
Figures published 22 May 2022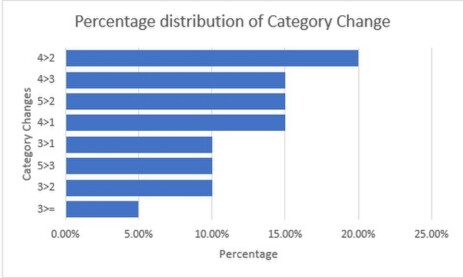 A message in May 2022 from Paul who completed the CBT for Tinnitus E-Programme in 2021, where like others, he reports another benefit is his learning from the course is transferable....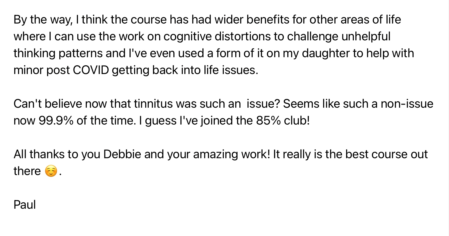 Cognitive Behavioural Therapy for Tinnitus
The clearly defined process used in this course has
been developed and implemented over time by Debbie Featherstone. The CBT for Tinnitus E-Programme is UNIQUE. It is designed for those distressed by tinnitus, simulataneously providing a cognitive, behavioural framework that enables users to reduce co-existing symptoms such as:
- anxiety (general anxiety, social anxiety, health anxiety, panic, trauma)
- low mood/depressed
- sleep problems
whether these are pre-existing to, or since tinnitus onset. With 28 years experience, a Hearing Therapist and qualified Psychotherapist, Debbie draws on her experience to bring a process - tried and tested in an online format since 2009 - as a comprehensive course of Cognitive Behavioural Therapy for Tinnitus in to mainstream healthcare
The course has a strong evidence base of effectiveness over 12 years of being used online, including independent evaluation of the original online Tinnitus E-Programme conducted by NIHR NHBRC completed in 2017
Reference to ease of use can be found in the reviews by users of the CBT for Tinnitus E-Programme - see Reviews in the menu
Everything from Progress Checks at the start of each new module, to the incorporated 1-1 appontments with Debbie, to the logs, interactive CBT tools and email support
For £175 or £225, you have access to a stuctured, comprehensive programme of Cognitive Behavioural training tailored specifically to mitigate the experience of tinnitus distress, provided by a fully qualified and highly experienced Hearing Therapy clinician dual qualified in Psychotherapy. ONE or TWO 1-1 appointments (using Zoom) are included
Those using the CBT for Tinnitus E-Programme feel genuinely supported throughout the course. Meeting Debbie 1-1 near the beginning of your course puts you in touch directly with her, and the opportunity to ask any questions you want to. The comments received include "It's so nice to feel a real person is guiding me through all this". Equally, you always have email contact, so anything you find concerning, all you need do is send an email and you will ALWAYS receive a reply
Feedback from participants using CBT for Tinnitus 12
Extract from webinar 30 March 2021
CBT for Tinnitus E-Programme 12
A comprehensive CBT course for those with moderate up to very severe tinnitus distress




12 modular stages




Combines Cognitive Behavioural Training with an understanding of the relevant neuroscience

Includes a 6 week course of Autogenic Relaxation Training - a powerful relaxation method



With three 1-1 appointments: cost £295 (or 2 monthly instalments of £150) | View course

With two 1-1 appointments: c

ost £225 (or 2 monthly instalments of £115) | View course
With one 1-1 appointment: cost £175 | View course
From Users of the Tinnitus E-Programme:
"
This course has been life transforming for me. Before I started the course, I was constantly focussed on the tinnitus (March 2021 onset) and had taken time off work for associated anxiety. Now it rarely comes to mind and when it does, it has no emotional impact on me and I fairly quickly forget about it." (2021)
"Debbie has given me so much advice and support - she is so swift to reply and has helped me through some times where I felt overwhelmed by my tinnitus, I can't recommend or thank her enough! Prior to completing the course I had tried TRT but found I wasn't getting anywhere with this. The TEP helped me immediately." (2019)
"
I was in such a state when I first joined, near suicidal in fact. I really thought I would never ever cope. I followed this course and very quickly I gained control over my reactions to tinnitus.
Now it's such a nothing in my life, I forget I have it. I hear it from time to time, but it means nothing to me now, absolutely so unimportant. This course put me on the right track when there was no help elsewhere.
Thank you Debbie x. You saved me :)" (2017)
Past Users of CBT for Tinnitus E-Programme - A Year On
Long after completing the course, the results are maintained and even improved upon:
Dean, UK: Initial THI score 98% - final review 22%
A year after Dean completed the CBT for Tinnitus E-Programme, his progress is stable,
THI score is 20%
and here's his One Year On review:
"I still carry out daily breathing exercises as my anxiety and stress are triggers. Debbie's counselling always reminds me of the true meaning of tinnitus which helps me on difficult days. My life thanks to Debbie is now much more enjoyable and I cope better with the bad days . I now achieve periods of calm which has benefited me from almost silence at times. Debbie has helped my healing process and I revisit my notes to help me in stressful and anxious periods." (2020)
Kathy, USA: Initial THI score 68% - final review 20%
A year after Kathy completed the CBT for Tinnitus E-Programme, her progress is stable,
THI score is 18%
and here's her One Year On review:
"
One thing that I have gotten a lot better at is reminding myself that this is not dangerous, there is nothing to fight, that it can't hurt me and that it can just be there in the background without making me upset or afraid. I hardly ever talk about it at all which I think is good. And I am happy to be not dependent on the sound generators any more.
I do at times still get frustrated that it isn't completely gone or that it makes it hard at times to relax or makes it hard to hear someone but it is waaaaay less than before. I know that the more I believe it's "no big deal" the better. I do everything I want now and I have benefited from my mantras that all sounds are ok/safe and sounds can't hurt me. I do my breathing daily and am getting regular exercise which I think also helps with sleep and stress.
You have helped me SO much." (2019)
The CBT for Tinnitus E-Programme:
CBT for Tinnitus that leads to desensitisation (habituation) to tinnitus

A stepped CBT (Cognitive Behavioural Therapy) program (4 steps / 6 or 12 modules)




Measured Outcomes




Therapist Supported

Email enquiries:

cbt@tinnituseprogram.org

Whatever the reason for them, when worry, concern, fear, pain, anxiety or depression becomes chronic, the nervous system naturally becomes overactive. Fortunately it can be re-trained to unlearn this problematic pattern. Through using the CBT for Tinnitus E-Programme, learn to:
Re-train the nervous system

Consolidate your understanding of the mechanisms that drive tinnitus and tinnitus distress
Use cognitive re-training through Cognitive Behavioural Therapy (CBT)

The original 6 module CBT for Tinnitus E-Programme was UPGRADED during 2018/19 by Hearing Therapist Debbie Featherstone, additionally qualified in Psychotherapy (MSc)
28 years experience working with "tinnitus sufferers" who no longer "suffer" - instead, they desensitise to the noise and its meaning through Cognitive Behavioural Therapy (CBT) for Tinnitus

17 years (1993-2010) NHS Clinical Lead in Tinnitus Management & Hearing Therapy

A further 11 years Specialist in Tinnitus Management using Cognitive Behavioural Therapy (CBT) (2010-2022)


Dual qualified in Hearing Therapy & Psychotherapy (MSc)